~ Xoutpost.com ~
Where you come for the information
but stay for the friendships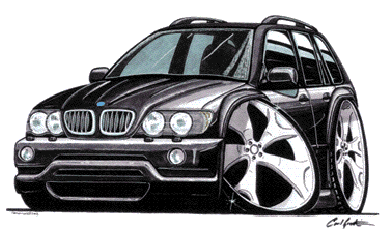 is a general reference and Frequently Asked Question (FAQ) guide to some of the more common things that current and potential BMW X3, X5 and X6 owners want to know about the Ultimate Sports Activity Vehicle. This site also serves as an information warehouse for modifications that BMW SAV enthusiasts have made to their particular vehicles.
ENJOY!
Copyright notice:

Xoutpost is Copyright © 2003-2010 and is made available as a complimentary service to the Internet at large. It may not be sold on disk, tape, CD-ROM, packaged or incorporated with any commercial product, or published in print, without the explicit, written permission of the copyright holder(s). This material may not be mirrored on any World Wide Web, gopher or ftp site without explicit prior authorization.

Disclaimer: This information is presented with no warranties or guarantees of ANY KIND including correctness or fitness for any particular purpose. The author(s) of this material have attempted to verify correctness of the data contained herein; however, slip-ups can and do happen.

This information is to be used at your own risk, and should only serve as a procedural reference.


» Latest Forum Topics

Stiffening plate bolts

Last post by
tempest411
125 Replies, 10,475 Views

Installed H&R lowering...

Last post by
X5only
3 Replies, 191 Views
No oil read on dip stick

Last post by
80stech
16 Replies, 455 Views

*The Official E53 Manual...

Last post by
ClassyJalopy
834 Replies, 114,714 Views
Troubleshooting Transmission...

Last post by
upallnight
7 Replies, 154 Views

What did you do to / for your...

Last post by
andrewwynn
9,035 Replies, 1,076,980 Views

Electronic Brake-Force...

Last post by
frozenwaffles
22 Replies, 11,926 Views

My 2005 X5 Aftermarket Radio...

Last post by
Crowz
1,206 Replies, 56,765 Views
2001 x5 3.0 replace engine...

Last post by
80stech
7 Replies, 211 Views

Just an intro

Last post by
PropellerHead
7 Replies, 180 Views