The rear suspension is real easy, Replace both upper arms (one control the other is toe), replace the ball joint and link assembly. Leave the lower arm bushing alone at this time.
Buy the entire kit here:
https://www.fcpeuro.com/products/bmw...5-e53rearkit-l
Buy the
RIGHT
BMW tool for the lower ball joint (
NOTE:
must have a flat surface on the extraction cup as the tool will not lay flat/perpendicular on the lower swing arm), READ the DIY posted all over this site, spray everything down a few days BEFORE you start with WD-40, and take your time. If stuck take a break and come back. It is only bolts and parts. It is
NOT
rocket science. Do not buy/Rent/or Borrow a "universal" bushing removal tool. If you tear up the ball joint pocket you will be buying an entire lower swing arm. See posting on failed attempts. This tool makes the job 10 mins a side.
Tool Source
:
ToolTopia:
https://www.tooltopia.com/cta-tools-...RoCoV0QAvD_BwE
FCPEuro
:
https://www.fcpeuro.com/products/bmw...n-kit-cta-8692
Video: E39 (Car) and E53 (SUV) have the same suspension configurations. Heavy duty parts in the E53 but same engineering.
https://video.search.yahoo.com/searc...f3&action=view
__________________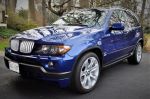 2005 X5 4.8IS
The
Blue
ones are always FASTER....
Current Garage:
2005 X5 4.8is
2002 M5 TiSilver
2003 525iT
1998 528i
Former Garage Stable Highlights
2004 325XiT Sport
1973 De Tomaso Pantera, L Model
1970 Dodge Challenger T/A 4 sp Alpine White
1970 Dodge Challenger T/A 4 sp GoManGo Green
1971 Dart Sport, "Dart Light" package
1969 Road Runner 383
1968 Ply Barracuda 340S FB Sea-foam Green