Deciphering Which Options You Have on Your X5
This article is to help you determine which options you have on your X5.


DISCLAIMER:
RABBIT IS IN NO WAY RESPONSIBLE IF SOME OF THIS INFORMATION IS INCORRECT. I TRIED MY BEST TO RESEARCH THESE OPTIONS, BUT BMW IS VERY STRANGE. USE THIS INFORMATION AT YOUR OWN DISCRETION. IF YOU DO SEE SOME INCONGRUITY, PLEASE TELL ME ASAP. GOT THESE PICTURES OFF OF EBAY, SO IF YOU SEE ANY STRANGE...DON'T ASK ME...
Packages Include (options generalized):
Cold Weather/Activity Package
:


High Pressure Headlight Washers

two sets of nozzles on each side

Heated Front Seats

On opposite sides of the options panel

Ski Bag in Rear Center Armrest Pass-Through


(+)
Heated Rear Seats
(2001-2006 4.4i; 2005-2006 3.0i; optional with cold weather package; 2002-2006 4.6is/4.8is standard)
two buttons on the rear center console
(+)
Heated Steering Wheel
(2000-2003 non-sport; 2004-2006; optional with cold weather package)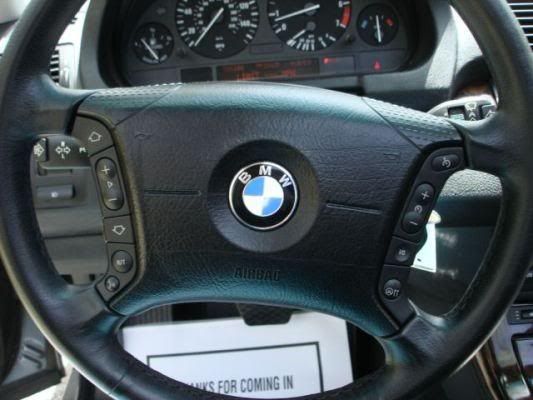 Button always next to cruise control's I/O button on all steering wheel models
Premium Package
:
Leather Seats
(2000-2002: Montana Leather; 2003-2006: Dakota; standard leather on V8s)
Pictured above is leatherette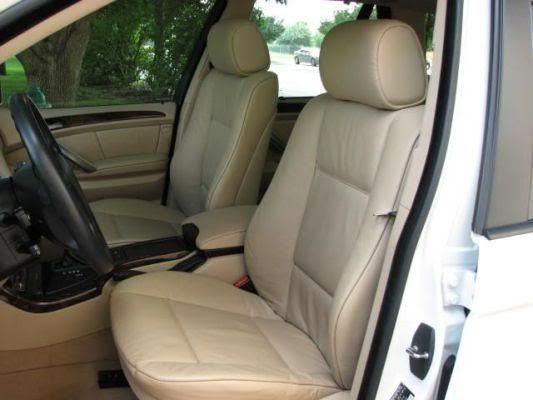 Basic seat with dakota leather
Automatic Dual Zone Climate Control
(2001-2003: standard manual on 3.0i) [REST] button on 2000 replaced by [MAX] on 2001-2006
Manual climate controls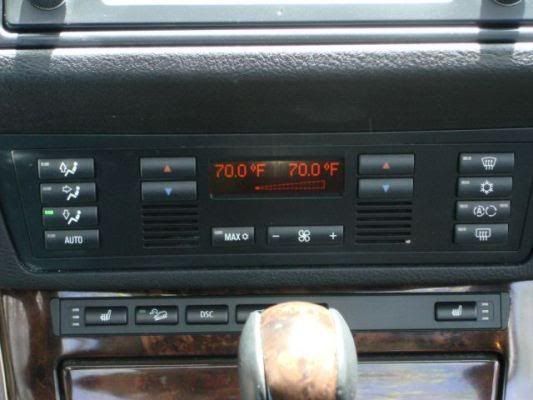 Automatic climate
Power Passenger Seat
(2001-2003: standard manual adjustment on 3.0i)
Comfort seat adjustments shown
Automatic Light Control
(2002-2003; standard 2004-2006)
2005-2006 models come with "on" indicator LED
Rain Sensor
(2001-2003; standard 2004-2006)
That bulky thing behind the mirror
Sunroof/Panoramic Sunroof
(2000-2004/2004-2006, respectively)
Panoramic sunroof shown
Power Reclining Rear Seats
(2002-2006)
Controls are the two black switches opposite of each other above the tailgate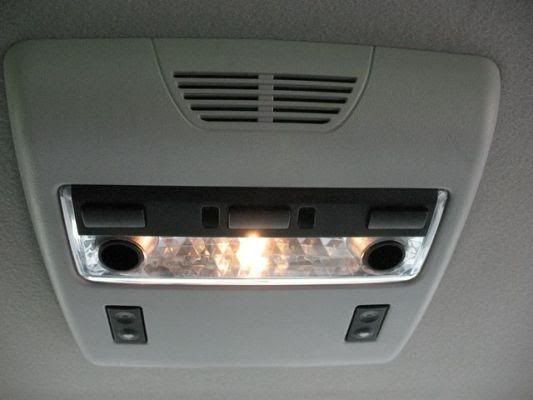 Overhead switches on 2002-2004 models
Those black switches on the C-pillar above the rear outboard headrests replace the overhead controls
(+)
Power Folding Side Mirrors
(2003-2006 optional feature; includes puddle lights on 2006)
Operated by the the square switch next to the window toggle

BMW Assist
(2004-2006)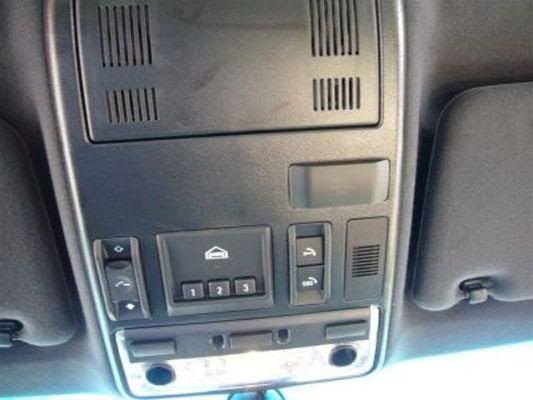 The thing with the SOS and phone
Body Colored Trunk Trim
(2003 3.0i)
Bluetooth
(2004-2006)
Rear Climate Package
:
Rear Air Conditioner Temperature Control
(2001-2005 3.0i)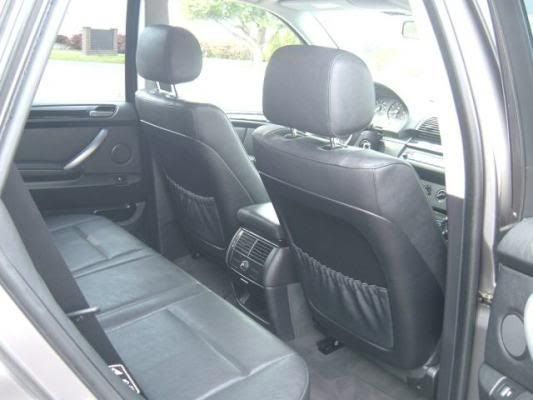 No temperature toggle on the right side of the rear vents

Rear Window Side Blinds
(2001-2006)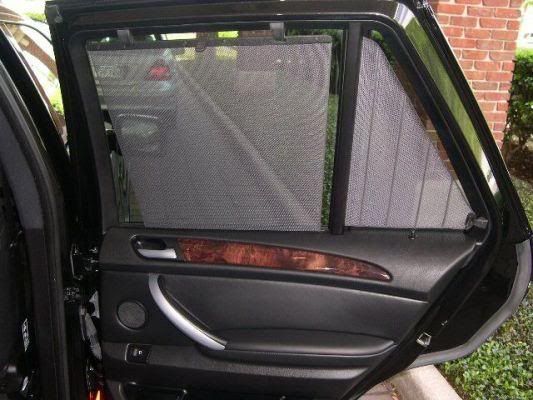 Manually operated
Privacy Glass/Tinted Glass


Sport Package:
(+)
Sport Seats
(2000-2003 optional feature; 2004-2006 standard with sport package)
Comes with thick bolsters, triangularish headreasts, and adjustable thigh support
Aluminum Exterior Window and Mirror Trim and Door Sills

Glossy trim (annodized aluminum)
Plastic trim
Titanium Mesh in Bumper

with titanium mesh
no titanium mesh


Anthracite (Black) Headliner

Black headliner


Sport Tuned Suspension


18" Wheels
(2001-2006 3.0i sport; 2003-2006 4.4i sport)
(+)
19" Wheels
(2000-2002 standard on 4.4i sport; 2003-2006 optional feature 4.4i sport)
Body Colored Door Handles and Trunk Trim
(2001-2002 3.0i)
Clear Amber Side Signals
(2000-2003)
Rear clear signals
Amber colored rear signals
Three Spoke Sport Steering Wheel

2000-2003 sport wheel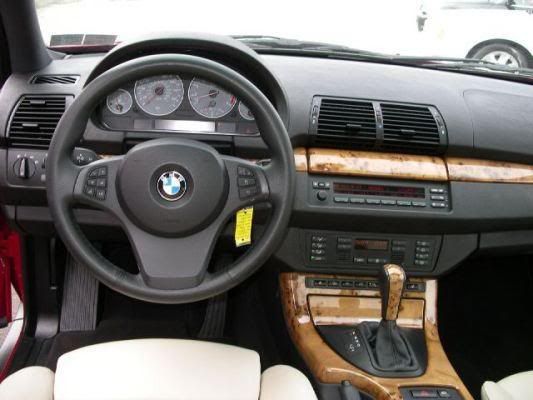 2004-2006 sport wheel
Non-sport wheel


Black Chrome Tailpipe Tips

Black chrome tips


(+)
Self-Leveling Rear Suspension
(2002-2006 3.0i; 2000-2006 V8s standard)
(+)
Adjustable Ride Height
(2002-2006 3.0i/4.4i; optional with sport package/requires self-leveling rear suspension; 2004-2006 4.8is standard)
You have self-leveling rear suspension if you have this, located to the right of the light controls
Individual Options Include:
Adjustable Ride Height
(2002-2006 3.0i/4.4i; optional with sport package/requires self-leveling rear suspension; 2004-2006 4.8is standard)
Here is the location of the adjustable ride height controls again
Automatic Dimming Mirrors
(2001-2006 3.0i; 2000-2003 4.4i; 2004-2006 4.4i standard; 2002-2006 4.6is/4.8is standard)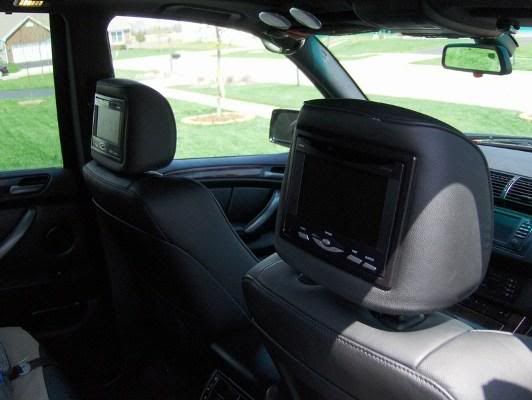 That little dot on the upper center of the mirror is the sensor. 2004-2006 models come with a compass too
Automatic Transmission
(2001-2006 3.0i; 2000-2006 V8s standard)
Manual transmission

Comfort Seats
(2000-2006 V8s; 2005-2006 3.0i)
Huge seats with huge headrests
Heated Rear Seats
(2001-2006 4.4i; 2005-2006 3.0i; optional with cold weather package; 2002-2006 4.6is/4.8is standard)
Heated Steering Wheel
(2000-2003 non-sport; 2004-2006; optional with cold weather package)

Leather Upholstery
(2001-2006 3.0i)

Lumbar Support
(2000-2004; 2005-2006 standard)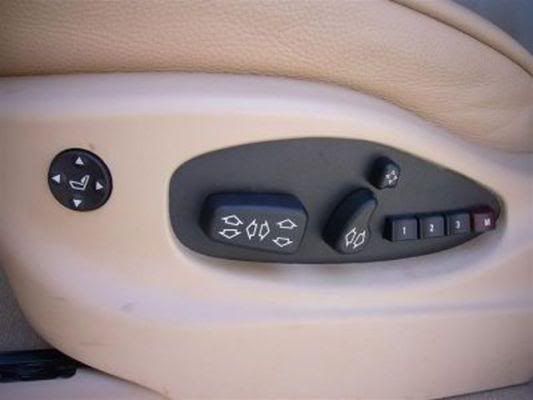 Seat with lumbar support (comfort seat controls shown)
Seat with no lumbar support

Navigation System
(2000-2001 4:3 screen CD-based; 2002 16:9 screen CD-based; 2003-2006 16:9 screen DVD-based)
16:9 aspect ratio screen
Park Distance Control
(2000-2006 3.0i; 2000-2004 4.4i; 2005-2006 4.4i standard; 2002-2006 4.6is/4.8is standard)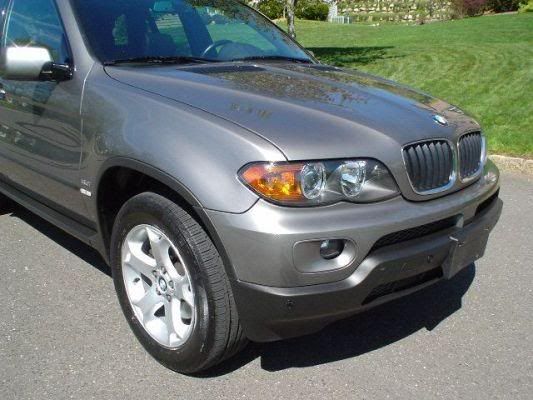 Sensors on lower bumper
Premium Sound
(2000-2006 3.0i/4.4i; 2002-2006 4.6is/4.8is standard)
Controls with DSP labled next to [AUDIO]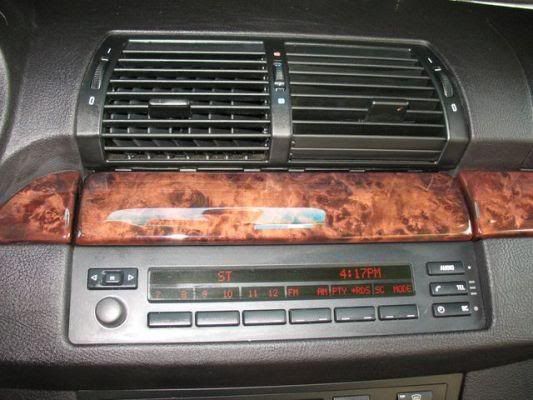 No premium sound
Rear Side Airbags
(2000-2006)
The crease and the black [AIRBAG] on the rear door panel signifies the rear side airbag
Retractable Load Floor
(2000-2006)
Rear floor not flush with tailgate
Self-Leveling Rear Suspension
(2002-2006 3.0i; 2000-2006 V8s standard)
Servotronic Steering
(2005-2006 3.0i/4.4i; 2002-2006 4.6is/4.8is standard)
Sunroof/Panoramic Sunroof
(2000-2004/2004-2006 3.0i/4.4i, respectively; 2002-2003 4.6is standard sunroof; 2004-2006 4.8is standard panoramic sunroof)
Tire Pressure Monitoring
(2000-2003: known as RDC; 2004-2006 standard)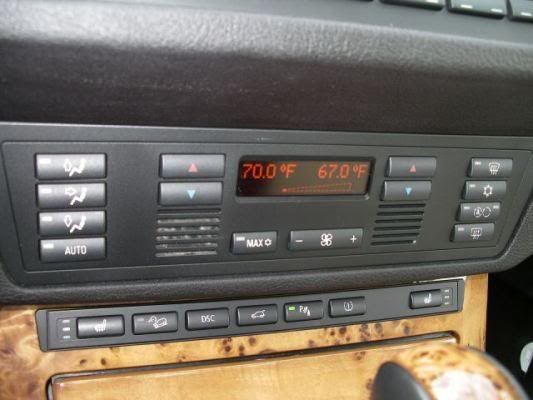 Last button that looks like (!) is the tire pressure monitor. RDC on 2000-2003 models
Xenon/Adaptive Bi-Xenon
(2000-2003 3.0i/4.4i xenon; 2004-2006 3.0i adaptive bi-xenon; 2004 4.4i adaptive bi-xenon; 2005-2006 4.4i standard; 2002-2006 4.6is/4.8is standard xenon/adaptive bi-xenon, respectively)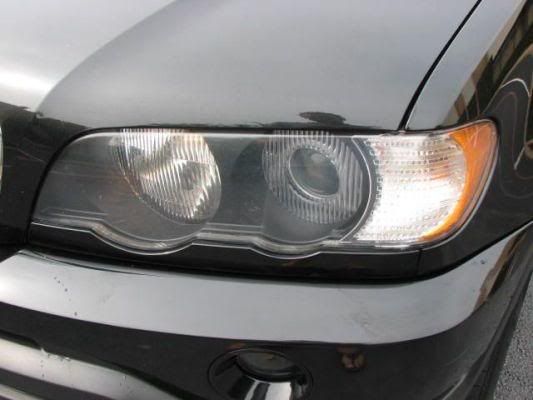 2000-2003 xenon headlights (a projector is there)
2004-2006 adaptive bi-xenon headlights (discretion, to tell if you have xenon bulbs, the lense must state so. if not, they are halogens)